Immigration News
UACT fights to protect the rights of our immigrants
UACT participates in ICE out of CT rally
January 01, 1970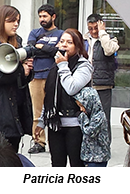 On Saturday, October 24, United Action CT took part in a car caravan and rally to protest the new deportation and anti-immigrant program of Customs and Immigration Enforcement (ICE) called PEP (Priority Enforcement Program).
The car caravan originated in Bridgeport with stops in New Haven, Meriden and New Britain to pick up additional protesters. After a short rally at St. Mark's Episcopal in New Britain the caravan moved on to the main event in front of the Federal Building on Main Street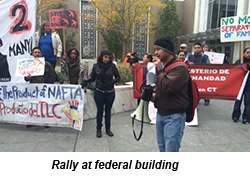 in Hartford. The rally called, ICE out of CT, drew over 100 protesters and numerous pro-immigrant organizations. Many people spoke at the rally and everyone demonstrated passion and energy.
The PEP program threatens thousands of people in Connecticut with deportation and is in conflict with the Connecticut Trust Act which was recently passed in the State legislature. UACT stands with the immigrant community in it's opposition.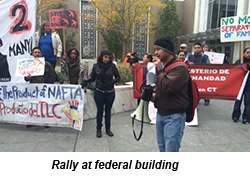 Return to News Article Listing