Immigrant Rights
UACT's immigration mission
UACT's mission is to champion for legislation that will create a process for all undocumented immigrants to earn citizenship and insist that enforcement policies must be made to be consistent with humanitarian values and with the need to treat all individuals with respect.
Is There a Silver Lining?
We all know that these have been the worst of times for immigrants and refugees across America. Since coming to power, the Trump Administration has waged a relentless attack on my immigrant sisters and brothers. At first it was a war of words, demonizing them to the point where many Americans were starting to think that immigrants just might be the source of all of our country's problems. The verbal attacks have been followed up by a series of actions that threaten the survival of non-white immigrants in our nation.
On September 4, 2017, the Trump Administration announced the rescission of DACA, an Executive Order signed by President Barack Obama in June 2012, which gave temporary protection to DREAMers until permanent immigration reform could be enacted by Congress. The rescission has been challenged and the Supreme Court is expected to hand down its decision before the end of June. If the Court strikes down DACA, 700,000 DACA DREAMers will be subject to immediate deportation when their current renewal period expires. All of these people are Americans in-fact if not in-law. They have grown up in America, they have been educated in America, some speak only English, most have never seen their country of birth, they have married American citizens, they have American-born children. The lives of these DREAMers and their families will be devastated.
In January 2019, the Department of Homeland Security (DHS) implemented the Migrant Protection Protocols, commonly known as the "Remain in Mexico" policy. Refugees seeking asylum at the southern border are sent to wait in dangerous camps in Mexico where they are exposed to gang violence and terrorism. And the asylum hearings are backed up for months, perhaps years, because the administration refuses to appoint more immigration judges. And the "Remain in Mexico" policy is a violation of international law.
On August 12, 2019, DHS formally announced a new regulation broadening the definition of a public charge. The rule previously applied only to people who were deemed likely to rely on cash benefits from the government. It has now been broadened to include non-cash benefits such as the Supplemental Nutrition Assistance Program (SNAP), or food stamps; Medicaid; and housing vouchers and other housing subsidies. Any "alien" who, in the opinion of the Department of State or Department of Justice, is deemed likely at any time to apply for any cash or non-cash benefits, is ineligible for a visa, ineligible for admission to the country and ineligible for adjustment of status. With this change, white supremacists have fully weaponized the public charge rule to deny a Green Card to virtual every non-white immigrant.
In the face of this racist attack on immigrants and refugees, both the press and the politicians have gone silent. Immigration has become back-page news for the national press and support of immigrants has become the kiss of death for politicians. Both press and politicians would be well-advised to heed the words of the great Irish statesman, Edmund Burke: "The only thing necessary for the triumph of evil is for good people to do nothing."
Now the unstoppable pandemic has come rolling across the world and our nation. My immigrant sisters and brothers continue to remain invisible to the press and politicians. Many thousands of immigrants remain held in crowded detention centers; thousands, perhaps millions of refugees remain trapped at the Mexican border. Their lives are in grave danger; almost a perfect storm--but not quite.
It is ironic that in this horrible pandemic I can see the possibility of a silver lining for my immigrant brothers and sisters: Due to the ongoing coronavirus public health crisis, the United States Supreme Court on Friday cleared its calendar for April, extending an already historic delay of major legal cases. Perhaps the delay will continue until November when a rational president and a working senate will be swept into office. Then America will truly become an immigrant nation. We at UACT will continue to work hard for our immigrant brothers and sisters and never give up hope.
Be safe and be well.
Al Dornan, UACT Board Member and Immigration Task Force Chairman
April 7, 2020
A Summary of Immigration History in America
For the first century of American history, immigration to our nation was virtually unrestricted. Anyone could move into the United States, start a new life, pay taxes, participate in military service and conduct business. While the country had an open-borders immigration policy, it also had very strong naturalization laws which made it difficult to transition from immigrant to citizen. The original United States Naturalization Law of March 26, 1790 provided rules to be followed in granting of national citizenship. The Law limited naturalization to immigrants who were "free white person[s] ... of good character". In practice, only white, male property owners could naturalize and acquire the status of citizens, whereas women, nonwhite persons, and indentured servants could not.
This policy, in which unrestricted immigration was permitted but naturalization was tightly controlled, persisted until the 1870s and 1880s, when growing support for eugenics drove the U.S. government to adopt immigration laws. (Eugenics is a set of beliefs and practices that aim to improve the geneticquality of a human population. Simply stated, the goal of eugenics is to breed a master race). The Immigration Act of 1882, signed by President Chester A. Arthur on August 3, 1882, was intended to consolidate the power of white, European males as the ruling class in America. One of the long-lasting legacies of this act is the public charge rule. The rule made those "likely to become a public charge" inadmissible to the United States and potentially deportable within 5 years of arrival. Because the rule did not define the meaning of "public charge", the status could be assigned to any number of people including the disabled, the sick, or the poor. The rule originally kept out persons who were obviously unable to support themselves, but in the twentieth century the executive branch broadened it, first to keep out poor Asian Indians and Mexicans and then to keep out poor people generally. The Immigration Act of 1882 was the first immigration regulation to contain this kind of comprehensive subjective restriction, and it has continued on into contemporary conversations and debates regarding immigration.
The Immigration Act of 1924 limited the number of immigrants allowed into the United States, creating a quota system using nationality quotas. The law favored immigrants from Northern and Western European countries. Three countries, Great Britain, Ireland and Germany accounted for 70 percent of all available visas. The Immigration Act of 1924 excluded all Asians from entry into the country.
In 1965, The Immigration and Nationality Act overhauled the American immigration system. The Act ended the national origin quotas enacted in the 1920s which favored some racial and ethnic groups over others. They were replaced with a system emphasizing family reunification and skilled immigrants. Upon signing the new bill, President Lyndon B. Johnson, called the old immigration system "un-American," and said the new bill would correct a "cruel and enduring wrong in the conduct of the American Nation." Unfortunately, The Immigration and Nationality Act did not amend the definition of "a public charge", leaving it open to broad interpretation.
In May 1999, the Immigration and Nationalization Service issued formal guidance defining a public charge as someone "primarily dependent on the government for subsistence, as demonstrated by either the receipt of public cash assistance for income maintenance, or institutionalization for long-term care at government expense. Examples of disqualifying assistance included Supplemental Security Income (SSI), cash assistance from the Temporary Assistance for Needy Families (TANF) program, and state or local cash assistance programs (often called "general assistance") for income maintenance.[12] The guidance explicitly excluded Medicaid, food stamps, WIC, unemployment insurance, housing benefits, child care subsidies, or other non-cash benefits from qualifying immigrants as public charges.
On August 12, 2019, U.S. Citizenship and Immigration Services (USCIS) formally announced a new regulation broadening the definition of the public charge rule, The regulation took effect on Monday, February 24, 2020:
"This rule changes how the Department of Homeland Security (DHS) interprets and implements the public charge ground of inadmissibility.[1] The Immigration and Nationality Act (INA or the Act) renders inadmissible and therefore (1) ineligible for a visa, (2) ineligible for admission and (3) ineligible for adjustment of status, any alien [2] who, in the opinion of the DHS (or the Departments of State (DOS) or Justice (DOJ), as applicable),[3] is likely at any time to become a public charge…DHS is revising its interpretation of "public charge" to incorporate…consideration, reliance on or receipt of non-cash benefits such as the Supplemental Nutrition Assistance Program (SNAP), or food stamps; Medicaid; and housing vouchers and other housing subsidies."
With this change, white supremacists have fully weaponized the public charge rule to deny the American Dream to anyone who, in their opinion, does not meet their subjectively imposed standards.
This summary of the history of immigration in America is a tiny reflection of the battle between good and evil. These are dark times in the world and particularly in America. These are the times when we must be strong. I will continue to advocate for my immigrant sisters and brothers for as long as I am physically and mentally able to continue. "Do or do not. There is no try."
Sources: boundless.com, cis.org, history.com, ilrc.org, immigrationhistory.org, nilc.org, prl.org, uscis.gov, Wikipedia.org
Al Dornan, UACT Board member and Immigration Task Force Chairman
April3, 2020
UACT's work in 2019
United Action is an active member of the Connecticut Immigrant Rights Alliance. This alliance is committed to finding relief for the undocumented immigrant community and is resisting enforcement measures that are tearing apart families in Connecticut and across the nation.
United Action Ct is planning the following for 2018:
Holding monthly "Know Your Rights " and/or "Emergency Preparedness" workshops
Conducting periodical legal clinics
Developing Rapid Response plans in the New Britain/Plainville/Bristol and Meriden/Middletown areas
Educating the non-immigrant population on the myths and difficulties of the undocumented community
Providing assistance to families and individuals that are threatened with detention or deportation




CT Legislative Action
Dear UACT Community,
We wanted to pass along two very special videos that tell the stories of Paty and Cristhian. Their powerful narratives highlight the need for the updated TRUST Act (SB992) and we knew you would want to see them:
The TRUST Act has passed the Senate and is so close to having enough support to pass the house. Our state is closer than we have ever been to making much needed modifications to reflect the reality on the ground for our immigrant friends and neighbors. We encourage you to watch these videos, and then pass them along to your legislators, along with a note from you saying why you think updating the TRUST Act is important and asking for their support. Please also pass these along to friends so that they can do the same with their legislators. Here are some important talking points you can use in your conversations:
Due process:
SB 992 would prevent Connecticut law enforcement from detaining someone based on an ICE request.
An ICE detainer request is not based on probable cause or any sworn evidence.
SB 992 would allow Connecticut to hold someone if ICE produces a warrant signed by a judge.
This is about due process--Connecticut should not hold people if there is no warrant.
And:
Connecticut needs to pass SB 992 to catch up to other states that have already done the same.
ICE is out of control and has a record of violating the Constitution:sexual abuse, medical neglect, death in custody, and violating civil rights in the New Haven raids (2007) and the "Danbury 11" day laborers (2006).
Data show that policies like SB 992 improve public safety.
You can click on the link below to send a message directly to your legislator , with talking points included as well: https://bit.ly/2019TRUST
You can also look up your legislator here and make a quick phone call:
https//www.cga.ct.gov/asp/menu/cgafindleg.asp
Things in the legislative session are moving quickly. Make that phone call now! And the talk to your friends and ask them to do the same.
UACT Outraged at deportation of Plainville man
Isais Iriarte, an undocumented immigrant from Mexico, and the owner of the El Paso Restaurant in Plainville was deported back to Mexico on Wednesday, December 26, leaving behind his wife, two daughters and his business. United Action CT (UACT) members were outraged at the timing, manner and swiftness at which Iriarte was picked up by Immigration and Customs Enforcement (ICE), detained and deported.
How this happened and background on the Iriarte family.
On Friday, Dec 7th, Iriarte and his wife were running errands for their restaurant when a black van with red and blue lights pulled them over. Two agents dressed in black with Immigration and Custom Enforcement (ICE) badges stepped out of the van, taking Isaias and leaving his wife alone. Having a strong belief in a better life in the United States, Iriarte opened his own restaurant, the El Paso Mexican Restaurant in Plainville, in 2002. It has been a well-known establishment in the community for over a decade. He has two daughters. Jalinne Iriarte, a CCSU student, was born in Mexico and her father believed that if they stayed she would have to drop out of school to work and that she would have to marry early. Having a strong belief in further education for his daughter and a better life, Isais paid her tuition and she is now pursuing a degree in marketing and management and had hoped to take over the restaurant. The other daughter, Bitzania, is a senior in high school and hopes to study physical therapy. Iriarte was immediately sent to a detention center in Massachusetts and then shortly afterwards to another in New Hampshire. Despite strong public support and pleas from his attorney, Anthony Collins, asking ICE for discretion to allow him a chance to stay in the United States and make an appeal to an immigration judge, Iriarte was put on a plane and returned to Mexico the day after Christmas.
Action taken by UACT members.
UACT organized a press conference and community gathering on Friday, December 21 at the El Paso Restaurant to bring awareness to Isais dire situation. The restaurant was full of supporters including State Representative William Petit Jr., who urged attendees to contact ICE and voice their support for the family.
"Now I'm not sure what my future holds," Jalinne said at the press conference. "I'm scared and now, after this, what were my parents even working so hard for? I'm worried I'll have to drop out and work at the restaurant."
Jose Diaz, UACT's Community organizer established a gofundme.com page to collect donations for the family. "We have once again seen that this administration's and ICE's cruelty knows no bounds," said Diaz. "Within under three weeks, during the holiday season, Isias was taken away in handcuffs in front of his wife, thrown behind bars, and sent back to a country he hasn't been to in over 16 years—without ever seeing a judge, without ever having someone hear his case. ICE ripped a hard-working man from his family, his community, and his business. As a result of ICE's cruelty, two daughters are left without a father, a wife has been left without her husband, and the future of the family and the family's restaurant is uncertain."
Johanna Schaefer, president of UACT's board of directors said that Iriarte being taken into custody was "horrific" and "disruptive to the family and the economy."
The expedited deportation for Iriarte, who has been in the U.S. since 1999, apparently hinged on the fact that he returned to Mexico in 2003 to see his dying mother and then returned illegally.
Al's Walk For Immigrants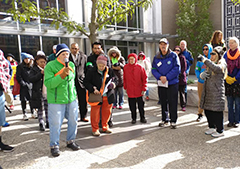 Between 100 and 150 people braved the cold temperatures and brisk wind in Hartford to participate in Al's Walk for Immigrants on Sunday, October 21. The walk was the brainchild of Al Dornan, a 79 year old man with severe scoliosis and spinal stenosis, who has been walking 2.2 miles for immigrants every day since January 25th, 2018.
With the help of United Action CT (UACT) and several other individuals and groups, Al organized the special walk in downtown Hartford. The walk began at the Ribicoff Federal Building on Main Street and proceeded to five additional locations with immigration history before ending with a peaceful rally at the Federal Building. The other locations, Hartford City Hall, the Old State House, St. Patrick-St. Anthony Church, the State Capitol and Center Church all featured guest and immigrant speakers that provided words of unity, solidarity and advocacy for the undocumented immigrant community.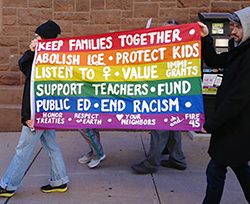 Speakers included Hartford Mayor Luke Bronin, Senator Gary Winfield of New Haven, Rocky Hill Town Councilman Chris Duff and Nancy Burton, coordinator of the Chalice Sanctuary Team at the Unitarian-Universalist Church in Meriden. Several clergy also spoke including Pastor Abraham Hernandez, Rev. Jan Carlsson-Bull, Rev. Aaron Miller, and Rev. Kent Siladi. Father Jim Shanley began the proceedings with a prayer. Speaking on behalf of the immigrant community were UACT organizer Jose Diaz, Michelle Cardono, Andrea Sanchez, Camilla Bortoletto, Victor Constanza and Roshaney Tahir.
The New England Mariachi Band also participated in the walk and the throng of participants marched, chanted and carried numerous signs, placards and banners advocating for immigration reform.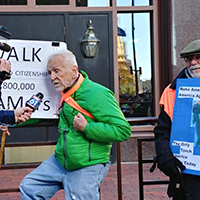 Although the day was cold and windy the majority of marchers stayed for the two and half hour walk that ended with Al Dornan pledging to continue to walk every day until he can physically no longer do it.
In an attempt to show national solidarity, Al also organized over 20 "mirror walks" in other cities across the United States on October 21. Al's goal was to deliver a powerful but positive message to both our politicians and local communities. He feels it is time that leaders in both political parties rise above the fray and negotiate complete immigration reform that includes legal status and a pathway to citizenship for 11 million undocumented immigrants.
Unitarian-Universalist Church in Meriden marks one year as refuge
For a full year, undocumented immigrant Sujitno Sajuti has lived within the walls of the Unitarian-Universalist Church while lawyers search for options.
In recognition, the United Action CT member church hosted a one-year observance for the Indonesian native and Fulbright scholar, who was ordered by Immigration and Customs Enforcement (ICE) to board a plane back to Indonesia on the morning of October 10, 2017, after his request for a stay was denied. Instead, the 68 year old Sajuti sought refuge at the church with his wife, Dahlia.
The observance on Tuesday night, October 9, included group prayer and a lecture on the legal obstacles undocumented immigrants face.
"It's not fair," said Sajuti, who has been in the U.S. since 1981. "But it's not too difficult. I'm used to it now."
Sajuti said his time in the church feels more like a "staycation" than house arrest.
He arrived in the U.S. in 1981 on a student visa. He elected to stay after the visa expired and was detained by ICE in 2011, remaining in custody for two months. He had been on a stay of removal since 2013.
Fortunately for Sajuti, who was been living in West Hartford, the Unitarian Universalist Church was finalizing its declaration as a sanctuary just as Sajuti's time was running out.
"We anticipated having a few weeks to figure things out, and less than a week later we get a call that Sujitno was going to be deported," said Nancy Burton, coordinator of the Chalice Sanctuary Team at the church. "It was 4:30 in the afternoon. We had a conference call at 8:30 and he arrived at 11:30 that night. We brought in cots and sheets from home and figured out what we were doing after the fact."
Burton and the sanctuary team designated a private area for Sajuti on the second floor of the church, making it impossible for ICE to enter without a federal warrant. In his room, Sajuti prays multiple times a day and reads to pass the time.
"He hasn't set a toe outdoors in a year," Burton said. "He's chosen not to take that risk."
Despite the restrictions, Sajuti remains positive. He rarely gets a sentence out without a chuckle in between.
"ICE is made up of people, just like immigrants,' Sajuti said. "They're all human beings. If I get angry, I ask God to forgive me, I forgive them. It's not easy, but I practice it every day."
Sajuti watches the news in small doses, enough to keep him informed, but not enough to subdue his positive attitude.
"I get a glimpse and I see the cruelty out there," he said. "I'm not strong enough to face that. I think God wants me here."
Court orders Trump administration to fully reinstate DACA
A federal court on Friday, August 3rd, ordered the Trump administration to fully reinstate the Deferred Action for Childhood Arrivals program — but an upcoming hearing means the program's future is still in doubt.
U.S. District Judge John D. Bates declared the Trump administration's September 2017 decision to end DACA unlawful, reaffirming a previous ruling by the court in April striking down the Trump administration's actions. The court stayed its April order for 90 days to give the Trump administration time to "better explain its view that DACA is unlawful," after initially determining that the Department of Homeland Security's case for repealing DACA was "virtually unexplained."
The DACA program, which was first instituted under President Barack Obama, provides undocumented immigrants who were brought to the U.S. as children with temporary legal residence and work authorization.
In response to the April ruling, DHS Secretary Kirstjen Nielsen in June issued a memo defending the government's decision to repeal DACA. The memo argued that the "DACA policy's legality is too questionable to warrant continuing the policy," and cited such reasons to strike down the policy as the potential for "burdensome legislation."
Protest Rally at Federal Building in Hartford
Hundreds of protesters from across the State of Connecticut, including members of United Action CT, rallied outside the Federal Building in Hartford on Friday June 6. The rally was in response to the separation of immigrant children from their parents in the latest directive of the Trump administration. The protesters were calling for the abolishment of ICE (Immigration and Customs Enforcement) for their cruel and inhumane tactics. Several protesters were arrested for blocking the entrance to the ICE offices, and a lot of chanting and sign waving took place but the protesters did maintain order.

Sen. Blumenthal and Meriden City Council Pledge to Support Nelly Cumbicos
The Meriden City Council voted unanimously Tuesday night, February 20, to send a letter to the Department of Homeland Security asking that city resident Nelly Cumbicos be allowed to remain in the country while her immigration case proceeds in court.
Carrying signs and wearing "Keep Nelly Home" T-shirts, over 60 residents and officials gathered outside City Hall prior to the meeting and rallied to support Cumbiscos including Rev. Jan Carlsson-Bull of the Meriden Unitarian-Universalist Church, UACT executive Director Mark Kosnoff and several other members of the U-U church. U.S. Senator Richard Blumenthal,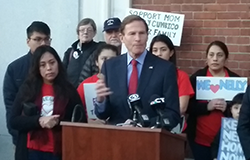 D-Connecticut, attended the rally and condemned the immigration system.
"I can pledge to you that we are going to fight for her, advocate, work for her at every level…to prevent this despicable betrayal of American law and value," Blumenthal said.
Cumbicos, 41, fled Ecuador and crossed the border illegally 18 years ago. Unaware a final order of deportation had been issued against her in 2002, Cumbicos was apprehended by Immigration and Customs Enforcement (ICE) while attempting to apply for a Green card in 2015. She lives with her husband, an American citizen, and 15 year old son who is also a citizen and attends Wilcox Technical High School.
After receiving a stay in June of 2017, Cumbicos was given a deportation date of February 16. On February 9, she thought she had received a one-year stay, but ICE informed her four days later that the decision had been reversed and that she had to leave the country by Feb. 28.
Cumbicos has a pending motion to reopen her order of removal with the Immigration Board of Appeals and an appeal with the Second Circuit Court of Appeals, according to Cumbicos' attorney, Erin O'Neil-Baker.