United Action Connecticut
Our Mission
Strengthening communities by bringing people and congregations together to foster initiatives for improving lives through social justice work - this is the mission and purpose of United Action Connecticut. United Action is an interfaith, multi-racial, multi-lingual organization crossing political, economic and urban/suburban boundaries. We hope that you will join us in our pursuits to advance civil rights for immigrants, improve health care access, build awareness for mental illness, and to lobby for key legislation in these areas.
UACT's Issues Work for 2018
Civil Rights for Immigrants

Health Care Access

Mental Health Awareness

Protections for Domestic Workers/Aging with Dignity Campaign
Court orders Trump administration to fully reinstate DACA
A federal court on Friday, August 3rd, ordered the Trump administration to fully reinstate the Deferred Action for Childhood Arrivals program — but an upcoming hearing means the program's future is still in doubt.
U.S. District Judge John D. Bates declared the Trump administration's September 2017 decision to end DACA unlawful, reaffirming a previous ruling by the court in April striking down the Trump administration's actions. The court stayed its April order for 90 days to give the Trump administration time to "better explain its view that DACA is unlawful," after initially determining that the Department of Homeland Security's case for repealing DACA was "virtually unexplained."
The DACA program, which was first instituted under President Barack Obama, provides undocumented immigrants who were brought to the U.S. as children with temporary legal residence and work authorization.
In response to the April ruling, DHS Secretary Kirstjen Nielsen in June issued a memo defending the government's decision to repeal DACA. The memo argued that the "DACA policy's legality is too questionable to warrant continuing the policy," and cited such reasons to strike down the policy as the potential for "burdensome legislation."
Protest Rally at Federal Building in Hartford
Hundreds of protesters from across the State of Connecticut, including members of United Action CT, rallied outside the Federal Building in Hartford on Friday June 6. The rally was in response to the separation of immigrant children from their parents in the latest directive of the Trump administration. The protesters were calling for the abolishment of ICE (Immigration and Customs Enforcement) for their cruel and inhumane tactics. Several protesters were arrested for blocking the entrance to the ICE offices, and a lot of chanting and sign waving took place but the protesters did maintain order.
United Action has 12th Annual Justice Celebration
On Wednesday, June 6, United Action CT held its 12th Annual Justice Celebration at St. Francis of Assisi's Parish Center in Middletown. As is the tradition at UACT's celebration dinners, home made, ethnic food was served and the theme for 2018 was "It Takes A Community".
Father Russell Kennedy of St. Francis, assisted by congregant Ivan Godoy provided musical entertainment and Health Care task force chairperson Ocean Pellett provided an activity for all the attendees to "build a community" during dinner.
The highlight of the evening was the presentation of the 2018 Social Justice Honoree award that was given to Rev. Jan Carlsson-Bull and the Chalice Sanctuary team of the Unitarian-Universalist Church in Meriden. The U-U Church has been providing sanctuary to Sujitno Sajuti and his wife Dahlia since October of 2017. Sajuti came to the United States from Indonesia in 1981 as a Fulbright scholar and earned a master's degree at Columbia University. He then returned to Indonesia before re-entering the country in 1989 to pursue a Ph.D at UConn. His visa expired during his tenure at UConn and, rather than returning to Indonesia, Sajuti stayed in West Hartford. Now 68 years old, Sujitno was ordered to return to his native Indonesia but instead sought sanctuary in the U-U Church in Meriden. Sujitno and Dahlia entered the U-U Church on October 10 of 2017, not knowing when they'd be able to leave. Rev. Carlsson-Bull and the congregation of the Meriden U-U Church have opened their hearts to Sujitno and Dahlia.
This year's Keynote Speaker was Natalicia Tracy, Executive Director of the Brazilian Worker Center in Boston, MA and Bridgeport, CT. She gave a heartfelt talk on growing up with the challenges of being a woman in a "man's world" as well as the difficulties of being an immigrant, domestic worker in the United States. Ms Tracy's accomplishments since those early years have been truly inspiring. She also praised UACT for their social justice work. UACT has been collaborating with the Brazilian Worker Center and several other groups on a campaign to improve home care by improving domestic worker jobs.
Sen. Blumenthal and Meriden City Council Pledge to Support Nelly Cumbicos
The Meriden City Council voted unanimously Tuesday night, February 20, to send a letter to the Department of Homeland Security asking that city resident Nelly Cumbicos be allowed to remain in the country while her immigration case proceeds in court.
Carrying signs and wearing "Keep Nelly Home" T-shirts, over 60 residents and officials gathered outside City Hall prior to the meeting and rallied to support Cumbiscos including Rev. Jan Carlsson-Bull of the Meriden Unitarian-Universalist Church, UACT executive Director Mark Kosnoff and several other members of the U-U church. U.S. Senator Richard Blumenthal,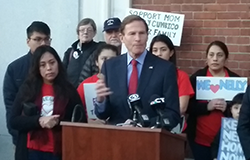 D-Connecticut, attended the rally and condemned the immigration system.
"I can pledge to you that we are going to fight for her, advocate, work for her at every level…to prevent this despicable betrayal of American law and value," Blumenthal said.
Cumbicos, 41, fled Ecuador and crossed the border illegally 18 years ago. Unaware a final order of deportation had been issued against her in 2002, Cumbicos was apprehended by Immigration and Customs Enforcement (ICE) while attempting to apply for a Green card in 2015. She lives with her husband, an American citizen, and 15 year old son who is also a citizen and attends Wilcox Technical High School.
After receiving a stay in June of 2017, Cumbicos was given a deportation date of February 16. On February 9, she thought she had received a one-year stay, but ICE informed her four days later that the decision had been reversed and that she had to leave the country by Feb. 28.
Cumbicos has a pending motion to reopen her order of removal with the Immigration Board of Appeals and an appeal with the Second Circuit Court of Appeals, according to Cumbicos' attorney, Erin O'Neil-Baker.
Undocumented 2018 – What are the Issues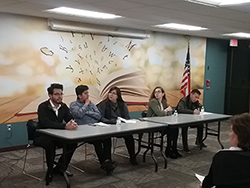 On January 30, 2018, United Action CT partnered with ACLU Power People for a forum titled "Undocumented 2018 - What are the Issues?" The event was held at the New Britain Public Library and attended by over 50 local residents. Marianne Hebenstreit of the ACLU Power People and Mark Kosnoff of UACT moderated the event, which focused on who the undocumented population in Connecticut are, and the psychological and legal issues that undocumented immigrants face.
Ann Speyer gave an in depth presentation of who the undocumented among us are, including the education, occupations, ethnicity as well as other details. Karen Dworski, a licensed clinical social worker, spoke to how the constant fear of detention and possible deportation can psychologically impact immigrant youth.
Immigration attorney Dana Bucin gave a riveting legal presentation, explaining the difficulties of people in some countries, notably Mexico, China and India, from coming to this country legally. She also urged those in attendance to get involved and press their Federal legislators to change the unfair and archaic immigration laws.
The most compelling part of the evening came next when four Dreamers told their stories of emigrating and growing up in the United States. Jose Diaz, Mariano Cardoso, Sabrina Garcia and Sophie, all DACA recipients, recalled the difficulties and fears they have encountered over the years as well as the crushing disappointment of possibly losing their DACA protection. Also speaking was Jason Ramos, who is a U.S. citizen, but whose father is undocumented, and had to seek sanctuary in a New Haven church to avoid being deported.
Finally, Mary O'Brien, the Global Solidarity Coordinator with the Office of Catholic Social Justice Ministry, called on all the attendees to put their supportive thoughts on paper. The OCSJM hopes to collect thousands of these "letters" to send to the current administration to demonstrate that local citizens support comprehensive immigration reform.
United Action and the ACLU Power People plan to stage more of these informative events in the future.
United Action is awarded Defense Mini-grant by CIRA
On January 24th, 2018, the Connecticut Immigrant Rights Alliance (CIRA), through the Community Foundation of Greater New Haven, awarded United Action CT (UACT) a Community Defense Mini-grant to be used to build a community defense network in Connecticut and provide information, outreach and services to Connecticut's immigrant families and individuals.
UACT will be focusing on the New Britain/Plainville/Bristol, Meriden/Middletown and Hartford areas to provide Know Your Rights and Emergency Preparedness forums as well as legal clinics. In addition UACT will develop Rapid Response plans in its areas of focus and provide personalized assistance. If you or your congregation or organization is interested in hosting a forum or clinic please contact UACT at 860-515-2284.
United Action participates in Protect Our Care Connecticut Campaign
United action CT (UACT) has joined a coalition of health care and advocacy groups that have formed the Protect Our Care Connecticut (POCCT) campaign that supports comprehensive, high quality, affordable and accessible health care for all Connecticut residents. UACT healthcare task force chairperson Ocean Pellett has been leading UACT's participation in the campaign.
Protect Our Care CT seeks to:
preserve and strengthen the gains made by the Affordable Care Act, and
defend Medicaid, Medicare and women's health programs.
Protect Our Care CT campaign coordinates organizations and individuals committed to:
educate each other, the public and policy makers on health care issues
respond to threats to health care coverage and programs, and
advocate at the national and state level for policies that support health equity and health care for everyone.
If you would like to receive alerts and updates on the POCCT campaign sign up at www.protectourcarect.org/sign-up.
For more information, contact Jane McNichol at jmcnichol@universalhealthct.org or call 203-427-3909
Solidarity Gathering results in Middletown Resolution
On September 23, 2017, United Action CT (UACT) hosted a Solidarity Gathering at St. Francis of Assisi Church in Middletown in support of the statewide home health care worker campaign. The campaign, also known as "Aging with Dignity", is a project designed to improve home care services, and thus allow our elderly to remain in their homes rather than sent to nursing homes, by improving home care jobs. Home care services are primarily performed by domestic workers, who have historically been excluded from the protection of federal and state labor laws and many of these exclusions persist today. UACT is part of a coalition that includes the Brazilian Worker Center, the Naugatuck Valley Project, the Office of Catholic Social Justice Ministry, the New England Synod of the Evangelical Lutheran Church, SEIU Local 1199 and others that are advocating for a domestic worker bill of rights.
Attending the gathering on September 23rd was Middletown Deputy Mayor Robert Santangelo, who indicated that he strongly supported the campaign. Over the ensuing weeks UACT pursued an effort to get the Middletown Common Council to pass a city resolution supporting domestic workers, the findings of the Domestic Worker's Task Force, and the proposed development of a bill to protect domestic workers.
With the help of Deputy Mayor Santangelo, UACT managed to get the resolution on the agenda of the December 4th Middletown Common Council meeting. During public comment, UACT executive Director Mark Kosnoff spoke in support of the resolution. Also in attendance, and in support of the measure, was Pastor Cathy Rohrs of the Middletown Faith Lutheran Church. After some discussion the Common Council passed the resolution by an 8-2 vote, and directed the City Clerk to forward copies of the resolution to the Connecticut General Assembly Task Force on Domestic Workers, the Middletown State delegation, the Mayor of Middletown and the Governor. The statewide coalition feels that city resolutions can be a useful tool in promoting increased rights and benefits for domestic workers by bringing attention to their plight.