United Action Connecticut
Our Mission
Strengthening communities by bringing people and congregations together to foster initiatives for improving lives through social justice work - this is the mission and purpose of United Action Connecticut. United Action is an interfaith, multi-racial, multi-lingual organization crossing political, economic and urban/suburban boundaries. We hope that you will join us in our pursuits to advance civil rights for immigrants, improve health care access, build awareness for mental illness, and to lobby for key legislation in these areas.
UACT's Issues Work for 2023
Civil Rights for Immigrants

Health Care Access for all

Protections for Domestic Workers


Mental Health Awareness
Hurricane Otis Hits Acapulco Mexico
Hurricane Otis, which roared through Acapulco in the early hours of October 25, was the most powerful storm on record to strike Mexico's Pacific coast, killing dozens of people and wrecking thousands of homes in the city of nearly 900,000.
Its 165 miles per hour winds caused major flooding, destroying furnishings, bedding and household appliances that were dumped outside homes alongside bags of rotting organic waste that have fed putrid smells in the city.
Jose Diaz, an organizer with United Action CT, is originally from Acapulco. He came to the U.S. when he was only 9 nines year old, and he still has family in Acapulco. He has created a GoFundMe page through UACT to raise money for his family in Acapulco to help them get through this difficult time. Please click on the link below to see Jose's fundraising page.
If you prefer to make a donation by check, please make the check out to UACT, put "Acapulco Fund" in the memo line, and mail it to UACT, 19 South Canal Street, Plainville CT 06062.
Your GoFundMe link is https://www.gofundme.com/f/help-for-acapulco-family-after-hurricane

HUSKY 4 Immigrants Update
As we go to press the Connecticut State Senate had just voted on and approved the state budget for the 2023-2024 fiscal year. This budget was primarily the same as the State House had approved the day before. The budget was hailed as bi-partisan, with historic investments in education, housing, and the first-ever tax cut since the introduction of the state income tax in 1991.

However, this budget failed to expand the HUSKY 4 Immigrants program for children up to age 18, settling to expand it only to children up to age 15. The HUSKY coalition had been advocating to expand the program up to age 26, to mirror the Affordable Care Act, but was at least hoping to get to age 18.

UACT agrees with other coalition members that expansion to age 15 is unacceptable. Expansion to age 15 will only cover a very small number of additional individuals and the cost to expand to 18 would have only been an additional $3 million, a fraction of a $51 billion budget.

Coalition members worked tirelessly this past legislative session to expand the program and numerous legislators supported expanding it at age 26, vowing to stop taking "baby steps" with the program. In addition, there was wide public support for expansion and a historic number of people who testified in support during a Health and Human Services Committee hearing as well as medical professionals that signed a petition for more robust expansion.

UACT is extremely disappointed in the decision not to expand HUSKY for immigrants up to age 18. We believe that the priority in the state budget should be investments in people and increasing access to healthcare is one of the most important investments in people that we can make. Apparently, the governor and state legislature decided that being "big and bold" was not in the cards this year and instead want to continue to take "baby steps."

(The following is a letter from HUSKY 4 Immigrants coalition director Luis Luna after the State Legislature approved the 2023 biennial budget on Tuesday, June 6)

Dear Coalition members,

As of yesterday, evening the House and Senate passed a budget that included funding for HUSKY expansion to children up to age 15 starting in July 2024. Included in the budget, there's a study bill that will look into the costs and benefits to any person 25 years and younger. The budget will now head to the Governor to sign.

I'm so proud of the work we all have done in this campaign. This legislative session, we rallied, we lobbied, signed postcards, wrote op-eds, testified, played Son Jarocho at the capitol. We had Zoom meetings and strategy calls, and made an infinite number of google docs and other digital shenanigans. We created a campaign that thousands of people believed and participated in.

Despite this amazing community effort, some legislators and the governor did not show up for us in a more meaningful way. It's ok to be disappointed, confused, and angry. But I also want you to be proud of how we showed up for each other. Take some time to rest and process. Then, let's take those feelings and learnings and turn them into the fuel we need to win bigger the next legislative session.

I want to lift our champions, Rep. Jillian Gilchrest and Senator Matt Lesser along with other legislators who carried the legislation forward inside the capitol building. Please send them a message to thank them.

My ask to you is that we continue to build a strong foundation and the relationships so that in the near future everyone has access to healthcare.

Luis Luna
HUSKY 4 Immigrants Update
UACT is part of the HUSKY 4 Immigrant Coalition that is seeking to expand the state's Medicaid program, HUSKY, to include eligible people regardless of immigration status. We feel that health care is a human right and no one should be denied access to basic health preventative services.
Currently, undocumented immigrant children 12 and under, and undocumented pregnant women for prenatal and postpartum care are covered under HUSKY and the coalition sought to expand that to individuals up to age 26 this year. HB 6616, which was designed to expand coverage to undocumented individuals up to age 26 was passed by the Human Services Committee on March 2, 2023 and referred to the Appropriations Committee. On April 20, the Appropriations Committee introduced their budget and it included expanding coverage, but an amendment only expanded coverage for children up to age 15.
While we welcome the expansion, it is not enough. This new coverage will only help a small handful of individuals and leaves way too many young adults uncovered.
On Tuesday, April25, Representative Anthony Nolan (D-New London) held a press conference at the Legislative Office Building rallying his colleagues to reconsider the Appropriations amendment and calling for expansion up to at least age 18. Rep. Kate Farrar (D-West Hartford), Sen. Matt Lesser (D-Middletown) and Sen. Patricia Billie Miller (D-Stamford) all spoke in favor of expanding coverage up to age 18, and Senator Miller said we should "no longer be taking baby steps" with the health care of so many on the line. Rep. Nolan also introduced Jocelyn Diaz, an intern working in his legislative office, who he claimed, "was the driving force in seeing that this press conference happened and that we continue to fight for expansion of HUSKY." Ms. Diaz helped to translate for two immigrant women who testified on how they struggle to raise children with medical conditions that require specialized care but do not have health insurance.
Others who spoke include Luis Luna, director of the HUSKY 4 Immigrant campaign, Constanza Segovia of Hartford Deportation Defense and Rev. Josh Pawelek, Pastor of the Unitarian-Universalist Society East, who spoke on behalf of the Greater Hartford Interfaith Action Alliance. Rev. Pawelek gave an impassioned plea on why HUSKY should be expanded and how the state spending cap should not be a deterrent because of the current budget surplus and a huge rainy-day fund. Everyone who spoke emphasized that "health care is a human right."
Although HUSKY expansion for immigrant children up to age 15 is now part of the Appropriations budget, advocates say it is not enough and will be pushing to restore HB 6616's original request of age 18. Negotiations will now take place over the next several weeks as both Governor Lamont and the legislature try to reach agreement on the new two- year budget proposal.

HUSKY for Immigrants Coalition Applaud Committee Passage of HB 6616, Commit to Working With Legislators To Expand HUSKY Access for All
Connecticut - On Thursday, March 2nd, the Connecticut General Assembly's Human Services Committee voted to pass House Bill 6616, to expand HUSKY to those otherwise eligible, regardless of immigration status, up to age 18. The committee vote comes just over two weeks after the bill received overwhelming support during a 12 hour public hearing in which over 700 people testified in support of expanding HUSKY to undocumented immigrants. While this is great news for undocumented youth who are now one step closer to receiving the healthcare coverage they need, the amended bill falls short of the original proposal to expand HUSKY to age 26.
"We are thankful to the co-chairs and members of the Human Services Committee who were instrumental in ensuring HUSKY expansion up to age 18 moved out of committee," said Luis Luna, HUSKY for Immigrants Coalition Manager. "This vote is a confirmation of what we know and echoes what the co-chairs stated during debate – that this program is working and improving the daily lives of those who are able to access it. Currently, income eligible undocumented children 12 and under and postpartum individuals are able to access HUSKY and the program has been a success with service providers. This vote shows that our legislators are listening to overwhelming support behind this issue as 84 percent of Democrats, 83 percent of Black voters and 76 percent of Latinx voters support expanding HUSKY to all immigrants regardless of age. But the fact is healthcare needs don't end after age 18. The bill's passage out of the Human Services committee is another important step in our march towards health equity in our state. We look forward to continuing to work with legislators to ensure our immigrant communities, no matter their age, can access healthcare."
"I'm an undocumented mother with 3 kids, two are 14 years old and one is 20 years old. As an undocumented family it is very difficult for us to survive in this country because we do not qualify for health insurance due to our status. I'm happy that the Human Services Committee voted HB 6616 out of committee to expand HUSKY access to those under 18. I know the importance of kids and teenagers having access to health care. One of my 14 year olds has thyroid problems which become inflamed and painful, preventing him from eating or talking. I've had to take him to the emergency room for the pain because we cannot afford to see the specialist we were referred to. With passage of HB 6616, my 14 year old would be able to access the care he needs. But I also have a 20 year old daughter who unlike my 14 year olds, cannot access healthcare in the school based health center. She needs access to health care too as she suffers from anemia and irregular menstrual bleeding to the point of going to the hospital twice because we cannot afford to see the specialists. That's why I need Connecticut legislators to support HB 6616 so that kids up to 18 can have access to care, but also keep fighting to expand the age so that my 20 year, myself, and my husband can also access healthcare." said Olga Gutierrez a Bridgeport resident and member of Make The Road CT's fightback committee.
"My interfaith colleagues and I have heard from thousands of our members that access to healthcare is a crucial concern for their families and neighborhoods, especially when it comes to mental health," said Rev. Matthew Hogue-Smith, Greater Hartford Interfaith Action Alliance, who represent 49 congregations in Greater Hartford. "Connecticut must take the necessary steps to ensure everyone, regardless of age or immigrant status, has access to quality, affordable mental healthcare. This committee vote means that thousands of undocumented adolescents are one step closer to having the health coverage they need and will help address the mental health crisis among our youth. But what happens when they turn 18 and that coverage is no longer available? Age 18 to 26 is a critical time for first breaks in diagnosis for Bipolar and Schizophrenia and the length of time from first break to wrap-around care helps determine the prognosis by the age of 26. The absence of insurance makes affording mental health care nearly impossible. Expanding HUSKY for all, regardless of immigration status, is not just morally right but also in the best interest of everyone living in our state. We can't have healthy communities unless everyone has access to quality, affordable care."
The HUSKY for Immigrants Coalition is a coalition of immigrant's rights organizers, health care advocacy organizers, community leaders, healthcare providers, faith leaders and unions fighting for access to health care and health coverage for CT's immigrant population. Coalition members include: CT Students for a Dream; Universal Health Care Foundation of Connecticut; The Semilla Collective; Make the Road CT, Hartford Deportation Defense, CT Citizens Action Group; CT Working Families Party; Planned Parenthood Votes! CT, United Action Connecticut, Connecticut Women's Education and Legal Fund (CWEALF).
HUSKY 4 IMMIGRANTS CAMPAIGN LAUNCH
The HUSKY 4 Immigrants campaign was kicked off on January 11th with a press conference and lobby day at the Legislative Office Building (LOB) in Hartford. Representatives Jillian Gilchrist, co-chair of the Human Services Committee, Kate Farrar, Geraldo Reyes and Senator Derek Slap all spoke in support of the campaign. In addition, Suzanne Lagarde, CEO of Fair Haven Community Health Care, delivered an important message, from the medical side of the debate, on why it is so important for everyone to have access to preventative health care. Several immigrant individuals also gave testimony to the struggles they have endured due to the fact that they cannot afford the necessary care or treatment for ailments they or their children currently are enduring.
The campaign is designed to enact a law that will allow all eligible Connecticut residents to access the state's Medicaid program, HUSKY, regardless of immigration status. Currently state law allows children up to the age of 12 and pre-natal and post- natal care for pregnant women to access HUSKY regardless of immigration status.
At an overflowing conference room, with representatives from over 30 organizations, Representative Gilchrist promised her support for a bill that would give HUSKY access to all eligible residents. Luis Luna, Director of the HUSKY campaign and a native of Ecuador, led the press conference and recalled how his father refused treatment for a serious illness because he knew he had no health insurance and had no way to pay for the treatment that was prescribed. The other immigrant speakers told emotional stories of how an inability to pay for care has caused stress and anxiety for them and/or their children.
The campaign coalition consists of 39 organizations that represent non-profit, medical, union and religious groups. After the press conference, campaign members fanned out throughout the LOB, reaching out to their legislators with information packets and asking for their support of the campaign.
LEGISLATIVE BRIEFING
On January 17th, the HUSKY for Immigrants campaign continued with a Legislative briefing at the Legislative Office Building. Representative Geraldo Reyes of Waterbury arranged the briefing and Luis Luna, Director of the HUSKY campaign served as emcee.
Mr. Luna explained that 58% of the roughly 113,000 undocumented immigrants in Connecticut do not have any form of health insurance coverage – which is especially concerning during a global pandemic. Despite legislation that passed in 2021 and policy that passed in the 2022 budget bill, many are still left behind. Undocumented immigrants over 12 years of age are excluded from Medicaid and CHIP programs (HUSKY in CT), Medicare, Access Health CT state exchange coverage and financial help, and private insurance coverage.
Speaking from a live video screen, David Mermin of Lake Research Partners, reported on an opinion survey conducted on the HUSKY for Immigrants campaign. He reported that a clear majority of voters (57%) support allowing all Connecticut residents who qualify by income to receive insurance through HUSKY, regardless of immigration status. He went on to say that There is even more robust support for allowing all children (65%) to receive insurance through HUSKY. Melmin went on to say that while taxes was the top concern for voters in Connecticut, health care and it's rising costs was the second leading concern. Finally, the survey showed that the number one health care priority, across party lines, is lowering health care costs, followed by ensuring all children in Connecticut are covered.
Rose Ferraro of the Universal Health Care Foundation delivered the results of a cost and impact policy research completed by the Rand Corporation. Ms. Ferraro reported that if HUSKY for Immigrants was implemented the uninsured rate of undocumented immigrants drops from 57 % to 39%, meaning roughly 21,400 currently uninsured people gain coverage. The cost to the state is estimated to be $83.7 million.
This cost estimate represents approximately 3% of the state's annual Medicaid budget. An additional benefit reported in the study is that Connecticut's hospitals would realize savings of an estimated $63.3 million due to a reduction in uncompensated care. Connecticut Emergency Medicaid costs (approximately $15 million in 2021) would be reduced by the decrease in uninsurance among undocumented and legally present immigrants.
While the campaign has always maintained that health care is a human right, it also makes economic sense to do so.

History is on our side, and we're not stopping now.
Last year, we fought hard. Together we turned out and showed up to the Capitol, we sent letters, we made calls. And together we won. We passed legislation to expand HUSKY Medicaid to undocumented children 12 and under.
But our work cannot stop here. Access to healthcare is a human right. No one should be denied healthcare and a chance at survival because of their immigration status. That's why we're kicking off our HUSKY for Immigrants 2023 Campaign on Wednesday Jan 11th at 10am and we want you there. Can you join us?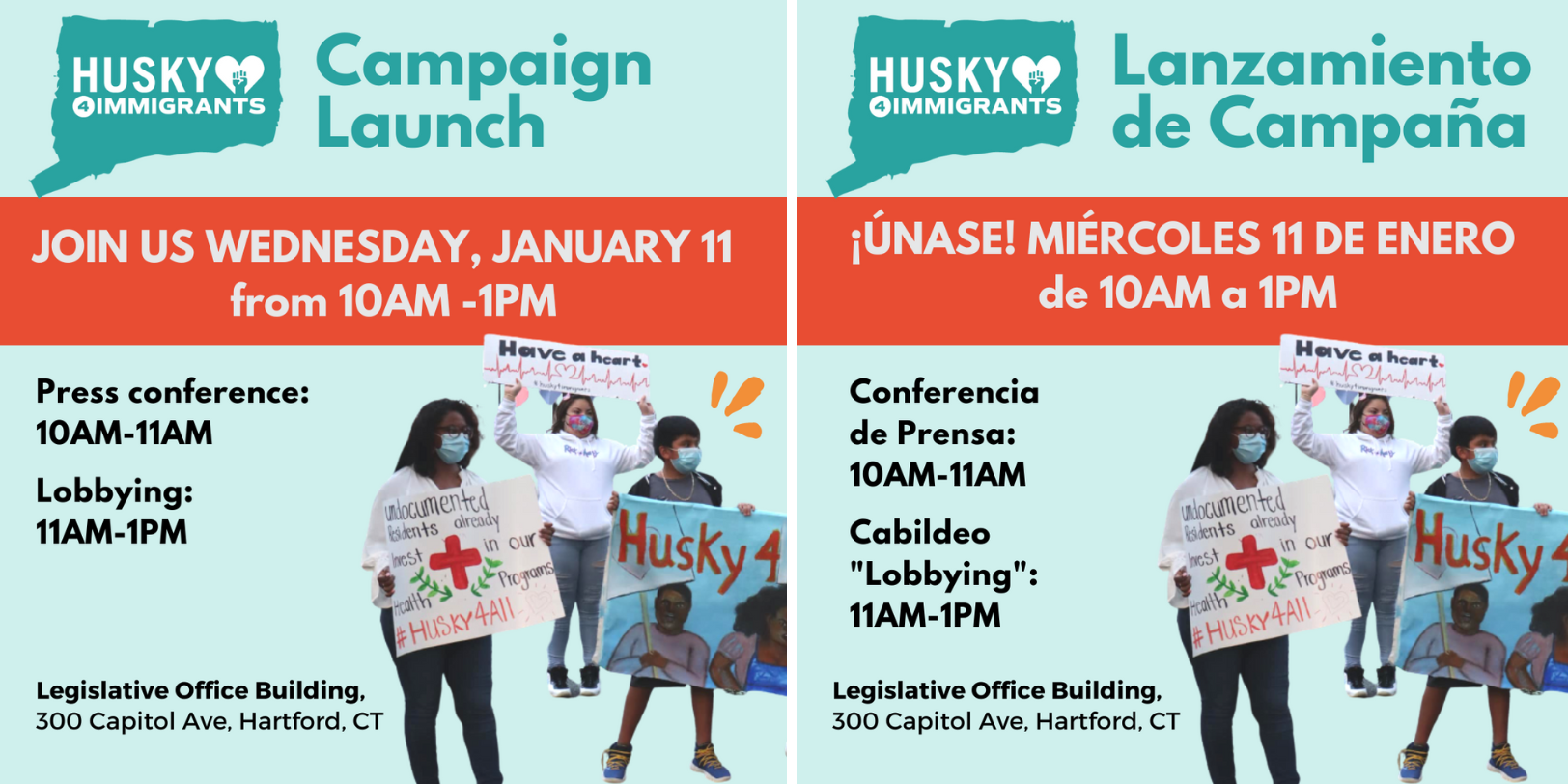 The fact is kids over 12 years old and their families need access to health care. And as the 2023 CT Legislative Session starts, this is our chance to make this a reality.
We're planning a packed launch day. We'll start the day with a press conference at 10am where you'll hear from folks who have been personally impacted by their lack of healthcare access and legislators who understand the need for change. And then we'll take the time to meet with key legislators whose support we need to win. Can you sign up here and let us know if you can attend January 11th at 10am?
Healthcare decisions should be between a patient and their doctor, but right now the state of Connecticut decides for many immigrants what healthcare they are able to get and what healthcare they can't get. We're fighting to change this. It all starts January 11th - sign up to join us.
If you can't make it, help us spread the word!


UACT Receives CCHD Grant
On June 9th United Action CT was notified that they were awarded a $6,500 Catholic Campaign for Human Development Grant from the Office of Catholic Social Justice Ministry of the Archdiocese of Hartford. UACT is thrilled to be the recipients of a grant from CCHD. The grant begins July first and runs for a year. "I was ecstatic when I received the letter of notification, and I truly want to thank Lynn Campbell and the CCHD committee for having the faith in our ability to manage this important project" said Executive Director Mark Kosnoff.
The purpose of the grant is to provide mental health support provided by 2 immigrants and a clinical social worker. The undocumented community does not have access to mental health services because most don't have health insurance. Understandably, many in this community are struggling with some degree of depression, anxiety, and post-traumatic stress in response to political and social conditions that these immigrants experience. (If you tried to create a situation to subject human beings to depression, anxiety, and trauma, the current political situation in the US creates the perfect storm.)
The goal of this grant is to empower undocumented immigrants and DACA youth to support each other in addressing mental health needs. José Díaz, a community organizer and DACA recipient, and Karen Dworski, LCSW, are facilitating a monthly zoom mental health info session and a support group. These can be held in Spanish, English or both languages. Patricia Rosas, an immigrant, provides important input and advice, as well as organizing and support services - emails, texts, and phone calls. The desired outcome is to grow to at least 2 mental health info sessions a month and 2 support groups a month, both currently in Spanish, with the goal of meeting more often as more people indicate that they would like to participate. A long-term goal is to hold trainings which will enable participants to facilitate and guide the support group as well as provide the facilitation and education for the info sessions.
The monthly info session provides education about depression, stress/anxiety, trauma and other mental health issues. The education also focuses on helping participants to develop their own coping skills and strategies which participants can use throughout their lives. The monthly support group is a place where community members can talk about the issues in their lives and receive mutual support in a non-judgmental environment.
Without mental health support, people struggle to cope with the demands of family life, work, and basic life management. Many undocumented immigrants are front line workers who are especially stressed and vulnerable during the pandemic. As people come together to improve mental health, they are better able to work, cope with family needs, take political action and improve quality of life. Moving out of poverty requires that these fundamental human needs are met.
As the group matures, leadership and facilitation will be taken up by group members. The info session and the support group encourage leadership within the groups. For example, community members are asked which issues they would like to discuss in the info session and support group- setting their own agenda. Leaders will naturally emerge through participation in the info sessions and support groups, this leadership experience can then be translated into working for social and institutional change. As people feel more in control of their lives and their emotional wellbeing, this would have a ripple effect on employment and working for social change.

Unitarian-Universalist Church Replaces Banner
The Unitarian-Universalist Church of Meriden, a UACT member congregation, held a ceremony on Sunday, January 16 to replace a Black Lives Matter flag for the fourth time after three previous flags or banners were stolen by unknown vandals. The ceremony was also an opportunity for the church to honor the life and legacy of Dr. Martin Luther King Jr.
The Rev. Tony Lorenzen said the church is less concerned with seeking punishment against the thieves than with them having the courage to engage in a face-to-face discourse about what the flags mean and how the vandalism has made city residents feel unsafe
"We will want you to talk to you about why these banners and flags are here, we will talk to you about this and tell you they are here to combat the fear, anger and hate you embody,' he said. "They are here to tell people we are proud Americans and citizens of Meriden and this is a place where all human beings are truly welcome. These flags and banners are here because people keep getting killed because of the color of their skin in our country."
In addition to the theft of the flags, Lorenzen said two vehicles have been driving by the church and shouting swear words.
In addition to Rev. Lorenzen, other speakers included church co-president Nancy Burton, Meriden State Representative Hilda Santiago, former Mayor and current City Council member Mike Rohde and Meriden Board of Education member Sheri Amechi. Co-President Burton also read a statement from U.S. Senator Richard Blumenthal, who could not attend, in support of church leadership.
After the speakers and a moment of silence for all those who have been targeted by violence on account of their race, the BLM flag was draped over the railing of the church's veranda. Members of the congregation also read over a dozen names of African Americans who have been killed while going about their lives.
The new flag hangs alongside an American flag, a Pride flag, a Mother Earth flag and a flag celebrating religions from across the world. The church's Pride flag has also been stolen in the past.
Build Back Better Rally
A contingent of advocates, clergy, immigrants and domestic workers gathered outside Senator Richard Blumenthal's office in Hartford on December 21st to rally for President Biden's Build Back Better plan. The BBB bill has become mired in a legislative quagmire as all 50 Republican Senators refuse to consider supporting the plan despite the fact that over 60 % of Americans approve it. Recently Democratic Senator Joe Manchin of West Virginia has also voiced his opposition to the plan making its passage virtually impossible. The group gathered in Hartford were there to urge Senator Blumenthal to continue his support of the BBB plan and do whatever he can to see it gets passed.
Reverend Josh Pawelek of the Unitarian-Universalist Society of Manchester led the group in prayer and also remarked that the BBB plan contains provisions that will benefit childcare, early childhood education and the environment but just as important are provisions for elder care that will benefit essential care workers that have toiled for years without benefits, low pay and virtually none of the protections most other workers enjoy. In addition, Reverend Pawelek commented, the BBB plan provides a pathway to citizenship for many immigrants who have worked on the front lines during the coronavirus pandemic.
Sophia Rodriguez of the Connecticut Worker Center and Jacqueline Dias of the Naugatuck Valley Project both told their stories of working as domestic workers for many years without any benefits, no paid days off, but long hours.
Despite the cold temperatures, those attending the rally cheered on the speakers and implored Senator Blumenthal, who did not appear at the rally, to continue to support the BBB plan and do everything in his power to persuade other non-committed Senators to do the same.
In addition to the Connecticut Worker Center and Naugatuck Valley Project, representatives from Unidad Latina en Acciòn, United Action CT, Connecticut Shoreline Indivisible, the Office of Catholic Social Justice Ministry and the National Domestic Workers Alliance were in attendance.