United Action Connecticut
Our Mission
Strengthening communities by bringing people and congregations together to foster initiatives for improving lives through social justice work - this is the mission and purpose of United Action Connecticut. United Action is an interfaith, multi-racial, multi-lingual organization crossing political, economic and urban/suburban boundaries. We hope that you will join us in our pursuits to advance civil rights for immigrants, improve health care access, build awareness for mental illness, and to lobby for key legislation in these areas.
UACT's Issues Work for 2017
Civil Rights for Immigrants

Health Care Access

Mental Health Awareness

Home Care Worker/Aging with Dignity
United Action needs your Health Care Stories
United Action Connecticut is partnering with 10 other organizations through the Universal Health Care Foundation (UHCF) to build support for state and federal health care policy advocacy work in 2017. We are interested in building a bank of health care stories to bolster our collective advocacy efforts.
As you are probably aware, the gains made by the Affordable Care Act (ACA), as well as the Medicaid and Medicare programs are under attack by Congress and the Trump administration. At the state level, the UHCF plans to put forward several new proposals to help individuals and families who are struggling with the high out-of-pocket costs of health care - in addition to protecting crucial programs, such as Medicaid, from the budget chopping block.
A lot is at stake and we need the stories of everyday people to help put a face on this issue.
Personal health care stories will fall into two major categories:
People who have benefitted from coverage under the Affordable Care Act, Medicaid or Medicare (including the value of having care and/or the challenge of losing care
People for whom out-of-pocket health care costs have created a barrier to care or a household hardship.
If you have a story or know someone who may have a health care story that fits into one of the above categories please contact United Action at 860-595-2284 or e-mail us at uact4change@gmail.com. Don't wait to make your voice heard, we need these stories now so we can advocate on your behalf before health care costs become unaffordable.
UACT partners with others on Home Care Worker/Aging with Dignity campaign

United Action CT has joined with several other organizations in an Aging with Dignity Campaign to improve homecare services to the elderly in Connecticut by improving homecare jobs. The Naugatuck Valley Project, the Brazilian Worker's Center, the Office of Catholic Social Justice Ministry, SEIU Local 1199 and the Unitarian-Universalist Society:East have all joined forces to advocate and advance legislation on this very important issue.
UACT has become involved with this project because of the needs at both ends of the homecare spectrum. Connecticut's population is aging at an increasingly rapid rate. But the supply of homecare workers remains well below what is needed to enable this growing population to age with dignity, largely because of poor pay, difficult working conditions, and lack of benefits and training. There is a 50% to 60% annual turnover within this sector in Connecticut. As we age, we look for quality care that will uphold our dignity. As people of social justice, we also have a special concern for the dignity of work and the rights of workers.
Currently the coalition is submitting a bill to the state legislature, The Quality Jobs for Quality Care Act, that is designed to improve the benefits and working conditions for home care workers and thus improve the care of the elderly in their homes.
Bishop Rosazza Social Justice Conference
United Action took part in the Bishop Rozzaza Social Justice conference on Saturday June 11th at St. Thomas Seminary in Bloomfield. United Action members were able to network with fellow faith leaders and parishioners and share the work that UACT is doing.
UACT set up an exhibitor table and had flyers in English and Spanish as well as flyers related to the immigrant rights work including "what to do when immigration (ICE) comes to your house".
Thank you to Michael Verrett and Grace Montesi for representing United Action at this event.
UACT Holds 10th Annual Justice Celebration
The Parish Hall at St. Francis of Assisi in Middletown was the site for United Action Connecticut's tenth annual justice celebration dinner on Wednesday evening, June 8. It was a delightful evening of excellent ethnic food, heart-warming conversation and an exciting program that featured "Living our faith in the community" as this year's theme.
Father Russell Kennedy, Pastor of St. Francis, opened the festivities with a wonderful greeting and blessing of the food and after dinner UACT Executive Director Mark Kosnoff spoke of the many disappointments on the legislative front this year but then gave numerous examples of how UACT member churches and congregations took the lead on social justice work in their communities. UACT Board President Steve Volpini also delivered an eloquent message on faith and social justice.
UACT then honored Ana Maria Rivera Forastieri and Alok Bhatt, two members of CIRA (Connecticut Immigrant's Rights Alliance), for their self-less dedication to the immigrant community. Both deflected the praise given to them and insisted that their accomplishments would not be possible without the hard work and dedication of the many volunteers that make up the CIRA coalition.
The highlight of the evening was an inspirational message by guest speaker Dr. Mohammed Qureshi of the Ahmadiyya Muslim Community, Connecticut Chapter, and the Baitul Aman Mosque in Meriden. Dr. Qureshi spoke of peace, forgiveness and religious tolerance and told the crowd that Islam is truly a religion of peace and that radicals have high-jacked their religion to serve their own misguided purposes.
Reverend Jan Carlsson-Bull of the Unitarian-Universalist Church in Meriden closed the evening with a beautiful closing prayer.
CCHD gives United Action grant to continue organizing efforts
On June 3rd the Catholic Campaign for Human Development awarded United Action CT an $8,500 grant to continue their organizing project on immigrant and economic justice. The CCHD funds are maintained by the Office of Catholic Social Justice Ministry of the Archdiocese of Hartford, which has been a strong supporter of UACT for many years. UACT Executive Director Mark Kosnoff was eternally grateful for the award and thanked the OCSJM for their faith in UACT's work. "We know there are a lot of deserving groups and many worth while projects so I am so thankful to get this grant. It will certainly sustain our work for the coming year", said Kosnoff.
UACT intends to use the funds to continue organizing efforts in the immigrant community around economic justice, such as fair pay and rights for home health care workers, wage theft and minimum wages for tipped workers. In 2015 UACT expanded its outreach to communities in Hartford, Middletown, and Bristol.
CIRA awards United Action grant for community outreach
The Connecticut Immigrants Rights Alliance (CIRA) through the Community Foundation of Greater New Haven awarded a grant to United Action CT to provide information, outreach and services to Connecticut's immigrant families and individuals to access DACA (Deferred Action for Childhood Arrivals) and possibly DAPA (Deferred Action for Parents of Americans and Lawful Permanent Residents) in greater numbers.
CIRA wants to change lives and empower immigrant families to stregthen the immigrant reform movement and UACT is proud to be able to assist in this program. UACT's goal over the next several months is to engage immigrant families through information sessions and eventually to provide a series of clinics to assist eligible DACA and DAPA individuals with screening, document organization and preperation and legal assistance. While the immigrant community waits for a final decsion by the United States Supreme Court on the fate of the expanded DACA and DAPA executive actions, UACT will be preparing to move forward with the community outreach program regardless of the decision.
With this in mind UACT will be looking for volunteers to aid with the implementation of the DACA and DAPA clinics. Many individuals are needed to host these sessions including greeters, registration, screeners, station captains, application assistance, hospitality and others. If you or someone you know would like to be of assistance at an event in the future please contact UACT at 860-595-2284 or uact4change @gmail.com.
UACT to work on DACA and DAPA Implementation Summer of 2016
United Action will be collaborating with the Connecticut Immigrant Rights Alliance to help our communities apply for DACA and DACA renewals. We will also hold DAPA readiness events that will help parents of U.S. citizens and permanent residents prepare for Deferred Action for Parents of Americans and Lawful Permanent Residents. More info to come!
UACT supports student financial aid movement
On Tuesday, March 1, dozens of young adults offered testimony at the Legislative Office Building in Hartford, arguing for SB147, an act which would allow non-documented students in state universities to obtain scholarships.
Among those testifying was our own Jose Diaz, organizer for United Action Connecticut (UACT). He, and many other students told about the difference such a scholarship can make in encouraging them to work hard and go to college, to afford the education, and to boost the state's economy by adding to the number of well-educated persons in the state's workforce.
Steve Volpini, UACT Board President, also offered testimony for UACT, an ally of these students. Click here to read his testimony.
UACT holds immigration forum at St. Francis of Assisi
United Action Connecticut and member congregation St. Francis of Assisi in Middletown co-sponsored an immigration forum on Sunday, February 28 at the St. Francis Fox Parish center. Nearly 100 people attended the event, titled "Coming to America" and it featured segments on the history of U.S. immigration policy, the current immigration status, a game that recreated the difficulties of a family trying to emigrate to the U.S. and actual testimonies from St. Francis parishoners who immigrated to America.
Father Russell Kennedy started the festivities with a prayer and song that set the tone for an afternoon full of provocative discussion and compelling stories. Parishoner Dana Bucin, an immigration lawyer, presented a table indicating the long wait times for people in certain countries who are trying to come to America legally. She also dispelled many "myths" about immigration with statistical facts.
The St. Francis parishoners provided a great buffet to accompany the event.
City of New Haven pledges support to resident immigrants
An inspiring press conference in both Spanish and English was held in New Haven on Wednesday, January 6 to rally people in the resistance to the Immigration and Customs Enforcement Agency (ICE). About 150 people showed up at the event, which was sponsored by the CT Immigrant Rights Alliance (CIRA), of which United Action CT is a member.
ICE has been rounding up undocumented refugees from Central America and detaining them with plans to send them back to their countries. The latest sweep began last weekend in southern states. So far, there is no indication they have come to Connecticut.
In New Haven, city officials announced their support of the immigrants. Mayor Toni Harp said the first priority of the city is to safeguard its residents. She noted that even though ICE has not come to New England, immigrants are nervous, and she offered the support of the city.
Also speaking was Police Chief Dean Esserman, who said that the department has been working hard to build trust in the community, and that the police are there to serve New Haven residents.
Superintendent of Schools Garth Harries urged people to continue sending their children to the public schools, and to leave a working telephone number, so that the school can call parents if ICE shows up or makes inquiries.
Leaflets were handed out informing people of their rights and what to do if they find themselves threatened by ICE. Here are some points to remember:
If ICE—La Migra—comes to your door, DO NOT OPEN the door. Ask them to pass any paperwork they have under the door. If they do not have an arrest warrant, do not open the door. If they do have a paperwork, take a picture of it.
Remain silent. Tell them you will only speak if you have a lawyer with you. You may tell them your name, but nothing else.
Do not sign any documents.
Take pictures and videos of the officers or La Migra. Record the names and badge numbers, if they have a badge.
Finally, call for assistance and advice right away. You may call Unidad Latina en Accion at any hour of the day or night at 203-606-3484. Or call Junta during daytime hours at 203-787-0191 Ext. 14 or 17.
Congregation Beth Shalom presents Racial & Criminal Justice Conference
Over 50 people attended Congregation Beth Shalom Rodfe Zedek (CBSRZ) in Chester on Saturday, December 5th to participate in a conference that addressed the mass incarceration problem that currently plaques the United States. CBSRZ is a United Action member congregation.
Rabbi Rachel Goldenberg served as hostess, emcee and as a panel member. Other panel members included Tammy Lanier, NAACP-CT, Director of Criminal Justice, David Mcguire, ACLU-CT Legislative and Policy Director and George Chocos, an ex-con that currently is a minister in two churches and has attended Yale Divinity School.
The conference also highlighted the book by Michelle Alexander, The New Jim Crow, which addresses the ever growing imprisonment of people in America that are dispropotionately, overwhelmingly poor people and people of color. The panel members were riveting and lively discussion and a Q & A period followed.
Several UACT members from other congregations attended the conference and they all praised the panel members and the conference format. UACT Executive Director, Mark Kosnoff, was extremely impressed with the event. "The panelists were very articulate and highly knowledgable and I also liked the idea that they offered several solutions that would benefit our communities, the state and the nation. It would be great to see more of this type of conference."
UACT Holds Annual Meeting

United Action CT held it's 2015 Annual meeting on December 1st at the Unitarian-Universalist Church in Meriden. The meeting is designed to introduce the Board members that will serve and is a motivational springboard for issues work for the following year.
After a short business meeting, clergy from several UACT member congregations spoke about social-justice and how faith communities should embrace helping others. Rabbi Rachel Goldenberg spoke of how ..."we are all connected to one another, and therefore if one suffers, all suffer." A panel of speakers next addressed the issues work that UACT proposes to work on during 2016 and after a short break small discussion groups were formed to create a plan of action.
Executive Director Mark Kosnoff also added that in 2016 UACT will be taking a three pronged approach to its work. "We intend to do our usual advocacy on social justice issues and make a greater effort to grow the organization, but also attempt to change the world view by conducting educational forums on our issues."
ECSU holds "Speak Up, Speak Out" Forum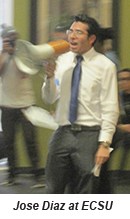 Eastern Connecticut State University hosted an immigration forum, entitled "Speak Up, Speak Out, on Immigrant's Rights" on Thursday, November 5th in the Student Center lobby. The event drew attention to the challenges facing the immigrant and undocumented community.
Speakers included ECSU President, Dr. Elsa Nunez, ECSU student and C4D member Erika Sanchez, United Action CT organizer Jose Diaz, Latino & Puerto Rican Affairs Commission member George Hernandez, CIRA representative Alok Bhatt and several other immigrant students.
The high energy event was highlighted by the stories of the immigrant students and their families who have had to overcome physical and mental hurdles in their quest for a better life. A consistent theme that was brought up over an over was the importance of the immigrant community to continue to tell their stories so as to educate the general population on the injustice of our current immigration policies.
Several UACT members attended the forum.


UACT members speak at Eastern Connecticut State U.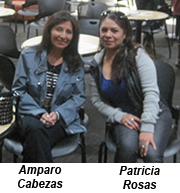 On Thursday, November 5, two UACT Board members spoke to students at Eastern Connecticut State University about their experiences emigrating to the United States. Professor Christine McDonnell invited Patricia Rosas of Manos Unidas in New Britain and Amparo Cabezas of St. Bridget's in Manchester to her Anthropology class at ECSU to discuss the trials and tribulations of immigration as well as the culture of being undocumented in America.
Rosas, who is originally from Mexico, described her reluctance to leave her native country but was convinced by her husband that their three young children would have a better life in the U.S. Rosas, who had to cross the desert with her children to enter the U.S. through California before settling in New Britain, has been in America for twenty years but still faces daily challenges including the inability to find steady work.
Cabezas, who hails from Ecuador, explained that she left a good life in her native country to give her two sons more opportunities for a better life in America. While that has become a reality, she says that life in America is still difficult because of her undocumented status.
The students were very engaged in the discussion and had many questions as well as their own insights on the current U.S. immigration system.
UACT Members participate in health care summit
The Universal Health Care Foundation (UHCF) sponsored an invitation only health care reform summit on Thursday, October 29th at the Quinnipiac University's Center for Medicine, Nursing and Health Sciences.
The event was the fifth in the series of Reform To Transform programs sponsored by the foundation and this forum entitled Sparking Bold Action was designed to learn from others who are addressing similar challenges in innovative ways. A significant group of diverse stakeholders participated in the summit that included numerous experts from all over the country.
After welcoming remarks by foundation President Frances Padilla, Keynote Speaker Efrain Agosto PhD of the New York Theological Seminary delivered an impassionted address on the injustices and confusion of our present health care "system".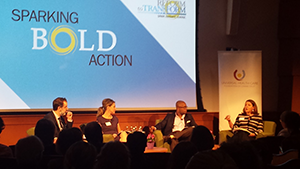 This was followed by two panel discussions. The first, When Government Leads was moderated by Pat Baker, President and CEO of the Connecticut Health Foundation and included John Colmers, Chair of the Maryland Health Services Cost Review Commission and Senior Vice President, Health Care Transformation and Strategic Planning, John Hopkins University; Felisa Hagins, Political Director, SEIU Local 49 and Member of the Oregon Health Policy Board and Anya Rader Wallack, Director, HealthSourceRhode Island and former Chair of Vermont's Green Mountain Care Board.
The second panel titled Leading through Collaboration - Voices From the Field was moderated by John Dankosky of Connecticut Public Radio and included Ben Bynum, MD, Director of Operations of Vital Healthcare Capital; Dianne Hasselman, Deputy Director, Network for Regional Healthcare Improvement and Amy Latham, Interim Vice President, Philanthropy, Colorado Health Foundation.
Following the panel discussions all those present participated in a small group discussion on What's Next for Connecticut.
Six members of United Action Connecticut including Board President Steve Volpini, Executive Director Mark Kosnoff, Grace Montesi, Robert Pearston, Ocean Pellett and Ellen Ashburn participated in the event and a short video that preceded keynote speaker Agosto highlighted various people throughout Connecticut including UACT organizer Jose Diaz. Click here to see the video.


UACT participates in ICE out of CT rally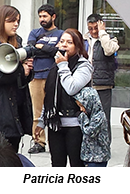 On Saturday, October 24, United Action CT took part in a car caravan and rally to protest the new deportation and anti-immigrant program of Customs and Immigration Enforcement (ICE) called PEP (Priority Enforcement Program).
The car caravan originated in Bridgeport with stops in New Haven, Meriden and New Britain to pick up additional protesters. After a short rally at St. Mark's Episcopal in New Britain the caravan moved on to the main event in front of the Federal Building on Main Street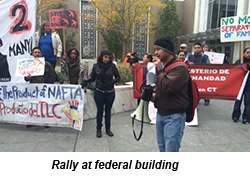 in Hartford. The rally called, ICE out of CT, drew over 100 protesters and numerous pro-immigrant organizations. Many people spoke at the rally and everyone demonstrated passion and energy.
The PEP program threatens thousands of people in Connecticut with deportation and is in conflict with the Connecticut Trust Act which was recently passed in the State legislature. UACT stands with the immigrant community in it's opposition to this anti civil rights program.

Listening Campaign at St. Bridget, Manchester
In April, 2015, the Pastoral Council, Social Justice Ministry and the pastor, Fr Stephen Sledesky, initiated a listening campaign for the parish. He commissioned about 20 listeners to conduct 1-on-1 interviews with parishioners to give them a chance to talk about what they like, what concerns them, what they suggest,... Read More


CCHD Awards UACT Challenge Grant
United Action of Connecticut received a $5,000 grant from the Catholic Campaign of Human Development for the Archdiocese of Hartford on June 12, 2015. In addition, CCHD awarded UACT another $5,000 via a Challenge Grant that is geared towards building relationships and organizing in the Central part of the State. Read more

St. Francis of Assisi, Middletown, joins UACT
St. Francis of Assisi Catholic Church in Middletown recently joined United Action of Connecticut as its newest dues paying member. UACT Executive Director, Mark Kosnoff, was pleased to make the announcement. Read more
UACT and Our Lady of Mercy Present Immigration Workshop
United Action CT and the Generations in Faith Together (GIFT) program at Our Lady of Mercy Parish in Plainville (UACT member) presented an immigration workshop as part of the GIFT program on January 16th and 18th, 2015. In total, almost 100 people were in attendance between both sessions. It was amazing to hear the discussion, comments and questions from the participants after UACT presented the Immigration exercise and Jose Diaz, Patricia Rosas and Mariano Cardoso shared their immigration stories. Several people signed up to offer their assistance on this issue. Sue Dziura and Jeanne Gionfriddo, Coordinators of the Gift program at Our Lady of Mercy, complemented this program by doing an exercise that highlighted parishoners immigrant heritage and presenting a separate program for the young children who attended the sessions. The GIFT program is planning on sharing about worker rights in April. Jeanne and Sue are open to getting information about Tipped and Domestic workers for the April sessions.
Connecticut Wage Theft Conference
"Most low wage workers suffer from wage theft." This declaration by wage lawyer James Bhandary-Alexander was the opening statement at a powerful one-day conference held on Nov. 22 at Gateway Community College in New Haven.
The conference brought together activists from many organizations, and highlighted the work of Unidad Latina en Accion, which works exclusively with non-documented Latinos. Several of those immigrants were also active at the conference.
An inspiring film by independent filmmaker AKU entitled "Injustice in Heaven," introduced the story of Gourmet Heaven, a restaurant in New Haven that was found guilty of wage theft, primarily through the activism of ULA, and with the full cooperation of New Haven police. At the restaurant, said ULA leader John Jaire Lugo, an average of $14,000 a year was stolen from its employees, who worked up to 72 hours a week.
One of the victims was an immigrant who started out as a $2 an hour farm laborer, then worked long hours at the restaurant, for more money. It took a while for him to see that he was still being exploited.
Peter Gosselin, an extremely active lawyer representing workers and unions, said that wage theft is "a business model" followed by the majority of those who hire low wage workers.
Kim Bobo, author of "Wage Theft in America," was the keynote speaker. She denoted the many schemes employers use to steal from workers. Examples: They pay less than minimum wage; they define their workers as "independent contractors."
The most vulnerable are most likely to be targeted, she said, undocumented immigrants, ex-offenders, moderate wage "salaried" workers who must work overtime but do not get paid for it.
Ms. Bobo is Executive Director of Interfaith Worker Justice, out of Chicago. She outlines about 20 actions that activists can take.
Here are a few:
Make sure all workers get pay stubs, that show their hours work, pay rate, OT pay, deductions, etc.
Push for more enforcement staff, federally and in-state. In the U.S. today, only 1,000 enforcers protect the rights of millions of workers.
Make plans to visit Wal.Mart on "Black Friday" to protest their wage and benefits policies.
Set up worker rights training in each religious congregation.
On the final panel of the day State Senator Gary Holder-Winfield D-10th) and State Representative Peter Tercyak (D-26th) urged voters to speak with the senators and representatives and remember that just causes need action. Elected officeholders must be pressured to do the right thing. Voters must demand that they not only voice support for workers, but vote for—and sponsor—bills that advance worker rights.
United Action Connecticut board president Steve Volpini represented UACT at the conference, held at Gateway Community College in New Haven.
UACT participates in Legislative Hearing for Domestic Worker's Bill of Rights
The Task Force on Domestic Workers of the State Legislature's Labor and Public Committee held a public hearing on Friday, November 21, 2014 at the Legislative Office Building. The hearing was to hear testimony from interested parties on Raised Bill No. 5527, "An Act Concerning a Domestic Workers Bill of Rights".
Several individuals and representatives of various organizations testified in support of the task force and the proposed bill which is a first and crucial step in the process of building towards comprehensive legislation to address unjust exclusions of domestic workers from the state's workplace laws, establish industry-specific protections, and improve job standards for this crucial workforce.
Representatives of Companions and Homemakers, a home care service provider with thousands of clients in Connecticut, opposed portions of the proposed Bill because of possible financial burdens it may cause.
Mark Kosnoff, Executive Director of United Action CT, testified in support of the task force and proposed Bill. His testimony can be seen by clicking here.