United Action Connecticut
Our Mission
Strengthening communities by bringing people and congregations together to foster initiatives for improving lives through social justice work - this is the mission and purpose of United Action Connecticut. United Action is an interfaith, multi-racial, multi-lingual organization crossing political, economic and urban/suburban boundaries. We hope that you will join us in our pursuits to advance civil rights for immigrants, improve health care access, build awareness for mental illness, and to lobby for key legislation in these areas.
UACT's Issues Work for 2022
Civil Rights for Immigrants

Health Care Access

Protections for Domestic Workers


Unitarian-Universalist Church Replaces Banner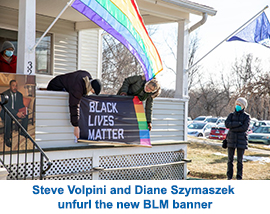 The Unitarian-Universalist Church of Meriden, a UACT member congregation, held a ceremony on Sunday, January 16 to replace a Black Lives Matter flag for the fourth time after three previous flags or banners were stolen by unknown vandals. The ceremony was also an opportunity for the church to honor the life and legacy of Dr. Martin Luther King Jr.
The Rev. Tony Lorenzen said the church is less concerned with seeking punishment against the thieves than with them having the courage to engage in a face-to-face discourse about what the flags mean and how the vandalism has made city residents feel unsafe
"We will want you to talk to you about why these banners and flags are here, we will talk to you about this and tell you they are here to combat the fear, anger and hate you embody,' he said. "They are here to tell people we are proud Americans and citizens of Meriden and this is a place where all human beings are truly welcome. These flags and banners are here because people keep getting killed because of the color of their skin in our country."
In addition to the theft of the flags, Lorenzen said two vehicles have been driving by the church and shouting swear words.
In addition to Rev. Lorenzen, other speakers included church co-president Nancy Burton, Meriden State Representative Hilda Santiago, former Mayor and current City Council member Mike Rohde and Meriden Board of Education member Sheri Amechi. Co-President Burton also read a statement from U.S. Senator Richard Blumenthal, who could not attend, in support of church leadership.
After the speakers and a moment of silence for all those who have been targeted by violence on account of their race, the BLM flag was draped over the railing of the church's veranda. Members of the congregation also read over a dozen names of African Americans who have been killed while going about their lives.
The new flag hangs alongside an American flag, a Pride flag, a Mother Earth flag and a flag celebrating religions from across the world. The church's Pride flag has also been stolen in the past.
Build Back Better Rally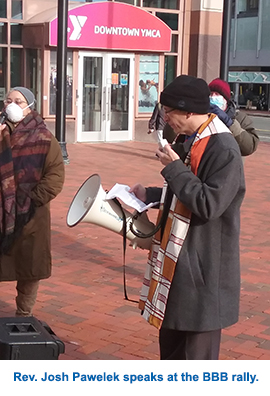 A contingent of advocates, clergy, immigrants and domestic workers gathered outside Senator Richard Blumenthal's office in Hartford on December 21st to rally for President Biden's Build Back Better plan. The BBB bill has become mired in a legislative quagmire as all 50 Republican Senators refuse to consider supporting the plan despite the fact that over 60 % of Americans approve it. Recently Democratic Senator Joe Manchin of West Virginia has also voiced his opposition to the plan making its passage virtually impossible. The group gathered in Hartford were there to urge Senator Blumenthal to continue his support of the BBB plan and do whatever he can to see it gets passed.
Reverend Josh Pawelek of the Unitarian-Universalist Society of Manchester led the group in prayer and also remarked that the BBB plan contains provisions that will benefit childcare, early childhood education and the environment but just as important are provisions for elder care that will benefit essential care workers that have toiled for years without benefits, low pay and virtually none of the protections most other workers enjoy. In addition, Reverend Pawelek commented, the BBB plan provides a pathway to citizenship for many immigrants who have worked on the front lines during the coronavirus pandemic.
Sophia Rodriguez of the Connecticut Worker Center and Jacqueline Dias of the Naugatuck Valley Project both told their stories of working as domestic workers for many years without any benefits, no paid days off, but long hours.
Despite the cold temperatures, those attending the rally cheered on the speakers and implored Senator Blumenthal, who did not appear at the rally, to continue to support the BBB plan and do everything in his power to persuade other non-committed Senators to do the same.
In addition to the Connecticut Worker Center and Naugatuck Valley Project, representatives from Unidad Latina en Acciòn, United Action CT, Connecticut Shoreline Indivisible, the Office of Catholic Social Justice Ministry and the National Domestic Workers Alliance were in attendance.